The free Ketchikan Classifieds has been provided as a community service for over 19 years. Thank you for your continued responsible use of this free service.
By using this service, you are accepting full responsibility for selecting your buyers, collecting your debt and managing your ad.
REMEMBER: Choose your CATEGORY & assign a PASSWORD to edit.
REPORT ABUSE: 617-9696
• Comments & opinions are NOT allowed & abuse of service
• NOT FREE for commercial advertising or website promotion.
• Abusers of "fair use" of this free service will be blocked.
Kittens to good home
I have three kittens that need to go to good homes, please email me if interested in pictures.


Posted: Mon, 22 May. 2017
Expires: Wed, 21 Jun. 2017

email
Bunny Wanted
We are looking for a baby bunny for grandchild. Please email if you have one available.


Posted: Fri, 19 May. 2017
Expires: Sun, 18 Jun. 2017
SPAY/NEUTER PROGRAM
Ketchikan Human Society's $40 SPAY/NEUTER PROGRAM
We strongly believe that spaying and neutering pets is the best way to keep them healthy and happy and the best way to prevent unwanted animals in our community.
If you or someone you know can't afford to alter a cat or a dog, please consider our program for assistance.
Click HERE to download an application for the spay/neuter assistance program [PDF]
Posted: Fri, 12 May. 2017
Expires: Sun, 11 Jun. 2017
Percy Wants You!
This cute little critter is Percy. He is a young adult Chihuahua mix. He likes other dog big and small.
He ignores ducks, so perhaps he has a low prey drive. Walks well on a leash but needs to learn basic commands.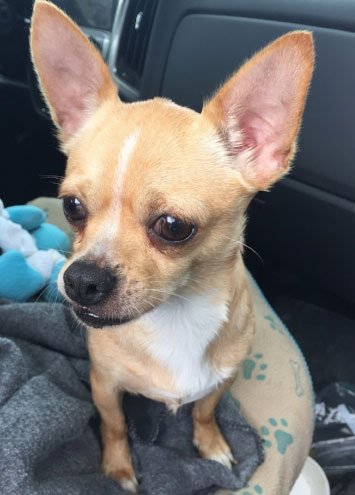 Percy is available for adoption at the Ketchikan Human Society.
All of our animals are fostered in private homes. If you'd like to meet a dog please fill out an application and we will schedule an appointment.
Click here to download a dog/puppy adoption application. (PDF)
Click here or on the website link below to learn more about the Ketchikan Human Society.
Posted: Fri, 12 May. 2017
Expires: Sun, 11 Jun. 2017
Have You Lost Your Cat?
The Ketchikan Animal Protection facility has several cats that have been found. If you have lost a cat, click here or on the website link below to view the cats currently at the shelter that have been reported as found.
Posted: Thu, 11 May. 2017
Expires: Sat, 10 Jun. 2017
Purebred Siberian Husky
FREE TO A FUREVER HOME! Two year old gray and white female siberian husky with Icy Blue Eyes. She's on the smaller side, around 35-40 lbs. She does great with other dogs and children. She hasn't been around cats. She's a sweet, loving girl who loves to go on walks. She knows basic commands and she's not too bad on a leash. However she cannot be trusted off-leash because she is a runner. She needs an active home preferably with a fenced in yard but not necessary if she's on-leash. Please call 9076172537
Posted: Tue, 9 May. 2017
Expires: Thu, 8 Jun. 2017
PUPPY WANTED
WANTED: Puppy for grandson's birthday in July. Prefer female. Would like it to be medium (40-60 lbs) size when full grown. Please email with details.


Posted: Tue, 9 May. 2017
Expires: Fri, 23 Jun. 2017
Missing Long Orange Cat
Long adult fixed Orange cat with extra long tail, Missing up above Evergreen Terrace at Condos
Please Call Barbara if you see him!! 220-6443
Reward Mom And Dad upset!!!! Please watch for him.


Posted: Tue, 2 May. 2017
Expires: Thu, 1 Jun. 2017
Kitten Wanted
Hi there,

Looking for a kitten, Litter trained and sweet to come to a loving home. Please email me with pics. Thank you


Posted: Sat, 29 Apr. 2017
Expires: Mon, 29 May. 2017
Looking for an experienced dog walk
Looking for an experienced dog walker for my two huskies. Please text me your rates at 9076178826


Posted: Wed, 26 Apr. 2017
Expires: Fri, 26 May. 2017