The free Ketchikan Classifieds has been provided as a community service for over 19 years. Thank you for your continued responsible use of this free service.
By using this service, you are accepting full responsibility for selecting your buyers, collecting your debt and managing your ad.
REMEMBER: Choose your CATEGORY & assign a PASSWORD to edit.
REPORT ABUSE: 617-9696
• Comments & opinions are NOT allowed & abuse of service
• NOT FREE for commercial advertising or website promotion.
• Abusers of "fair use" of this free service will be blocked.
BINGO VFW 4/14/2018
Bingo this Saturday 4/14/2018 at VFW Hall Upstairs Early Birds start at 5:30 Reg games start at 7PM


Posted: Sat, 14 Apr. 2018
Expires: Mon, 14 May. 2018

edit
Understanding the Unuk River
Ask UAS: April
What does it mean to have a healthy ocean? How do things like ocean acidification, invasive species, and pollution effect our marine resources?

Ask UAS presents: Healthy Oceans: How Ocean Health Impacts Marine Resources by Gary Freitag, Associate Professor at University of Alaska Fairbanks. Join us on Thursday, April 12th at 6:30 pm in the UAS Ketchikan Campus Library. This event is free, public welcome!
Ask UAS: Where Ketchikan Finds Answers.


Posted: Wed, 28 Mar. 2018
Expires: Fri, 27 Apr. 2018

edit
Life Drawing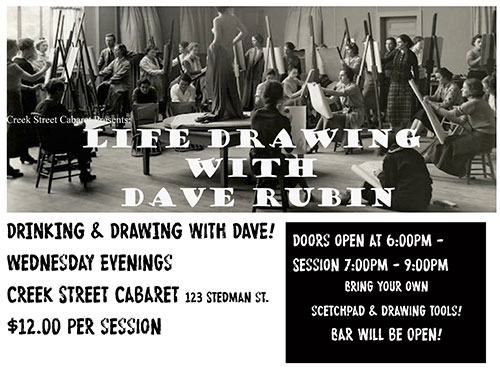 Posted: Sun, 18 Mar. 2018
Expires: Thu, 17 May. 2018
Tsimshian Language
KIC presents: Tsimshian Language Class
5:30 pm to 7:30 pm
Mon, Wed, Fridays through May 4, 2018.
615 Stedman
KIC Language Classroom Room 214
Free
Registration forms are available online at www.kictribe.org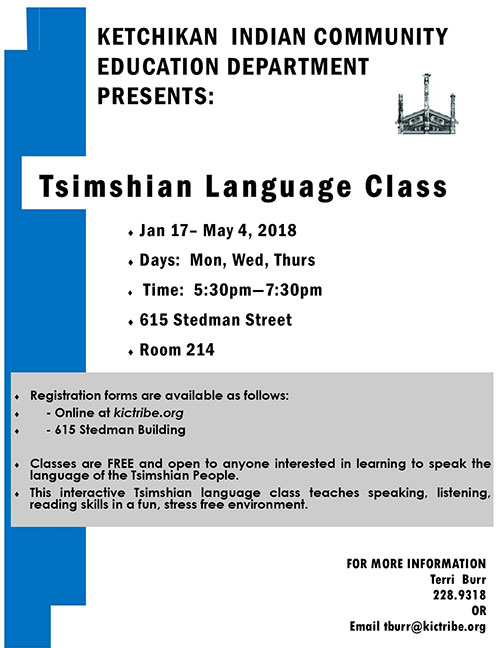 Posted: Sun, 18 Mar. 2018
Expires: Wed, 2 May. 2018
Half Marathon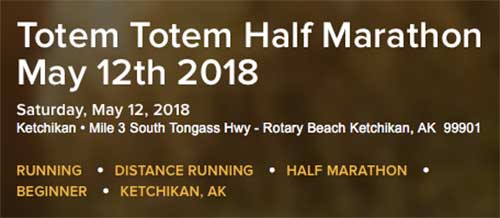 We have changed a few things this year to help registration go smoother for electronic timing system, and those who have to input each entry, track, and tally results.
ALL PARTICIPATES/OR TEAM LEADER IS REQUIRED TO PICK UP RACE TAGS/RACE BAGS ON FRIDAY NIGHT MAY 11th 2018 AT THE LANDING CONFERENCE CENTER, OR ENTRY WILL BE VOID.
THERE IS NO SIGN UP/REGISTRATION AT START LINE THIS YEAR.
Landing Hotel has special room rate for participates: Totem to Totem Race is code. (907) 225-5166
RSVP is required for the Friday May 11th 2018 dinner banquet to gretchen.klein48@gmail.com by Monday May 8th 2018. It is held at Landing Restaurant Conference Center from 5:00PM-7PM. This is made possible by generous sponsors.
The event finishes at the beautiful Potlatch Totem Park and Alaska Totem Trading. Take time after the race to enjoy the carving shed, and the park below the finish.
There is a barbeque hosted by Crowley Incorporated, desert table, medals, and exhibitors at finish. Each participate is entered in a drawing for 2 Alaska Airline Tickets at the finish. A huge thank you to Potlatch Park for hosting the event, and all the volunteers who help us coordinate this effort.
Event details and schedule
Friday May 11th 2018
Race Packet Pick-Up, and Free Dinner at Landing Conference Center 5:00PM-7:00PM
Saturday May 12th 2018
Rotary Beach
Line-up is required 15 minutes early for each race start.
Walkers at 8:00AM
Runners at 9:00AM
3 Water Stops/Relay Hand-Offs/First Aid Stations are at Water Stops * Bus Stop by Tongass Trading Company * Ketchikan Dray Heating * Old Pulp Mill Parking Lot.
Require everyone to stay on waterside of the road
Food, Exhibitors, and Water Provided at Finish
This is not a certified course.
Posted: Tue, 13 Feb. 2018
Expires: Mon, 14 May. 2018

website