The free Ketchikan Classifieds has been provided as a community service for over 19 years. Thank you for your continued responsible use of this free service.
By using this service, you are accepting full responsibility for selecting your buyers, collecting your debt and managing your ad.
REMEMBER: Choose your CATEGORY & assign a PASSWORD to edit.
REPORT ABUSE: 617-9696
• Comments & opinions are NOT allowed & abuse of service
• NOT FREE for commercial advertising or website promotion.
• Abusers of "fair use" of this free service will be blocked.
Manga Drawing Class
Manga Drawing Class at the Ketchikan Public Library.
Instructor Ema Oshima, all supplies are provided. Monday September 30th. Call the library with questions 225-3331.
Free.
3:30 - 4:30 pm, youth
4:30 - 5: 30 pm, teen and adults.
Posted: Fri, 20 Sep. 2019
Expires: Sun, 20 Oct. 2019
Monthly Grind
First Monthly Grind of the Season: Saturday - September 21, 2019.
Poster by Jeanette Sweetman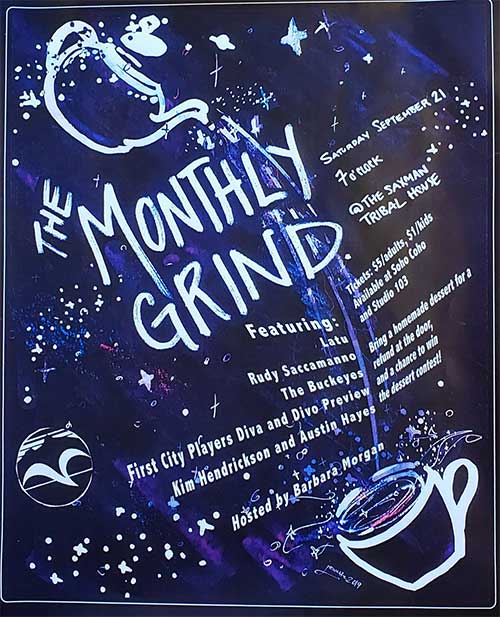 Posted: Fri, 20 Sep. 2019
Expires: Sun, 20 Oct. 2019
Main Stree Gallery
Posted: Fri, 13 Sep. 2019
Expires: Thu, 3 Oct. 2019
Ask UAS!
How can I improve my communication skills? How can adjusting how I communicate with others change my life?
Ask UAS presents: Practicing the Art of Interpersonal Communication: Think Positive, Act Positive by Stephen Florian, Asst. Professor of Writing and Communication at UAS Ketchikan.

Thursday, September 26th at 6:30 pm in the UAS Ketchikan Campus Library. This event is free and open to the public! Ask UAS: Where Ketchikan Finds Answers!


Posted: Wed, 11 Sep. 2019
Expires: Fri, 11 Oct. 2019
Kids Yoga and Mindfulness Classes
Join Dr. Shamim Sabeti from Southeast Pediatric Dentistry for Kids Yoga and Mindfulness Classes. Offered September 14th, October 3rd and November 14th 4:30pm-5pm at the Ketchikan Public Library. Ages Toddlers-Teens. All classes are free. Please call or email if you have any questions. 220-9231


Posted: Tue, 10 Sep. 2019
Expires: Tue, 19 Nov. 2019
Alaska Native Language Summit
Ketchikan Indian Community's Education and Training Language Program is proud to announce that they will be hosting an Alaska Native Language Summit for speakers of Tlingit, Haida, Tsimshian and Aleut.
This four-day event, Opening the Box of Language Opens Us to the Knowledge of Our Ancestors, is the second language summit hosted by KIC and attendance will include speakers from all levels. The intention of the summit is to celebrate our languages as we all work to protect, preserve and continue the revitalization efforts.
The summit is scheduled from Dec. 9-12 at the Ted Ferry Civic Center. Required registration is free and can be done on our Facebook Event Page (Alaska Native Language Summit) or forms can be picked up at 615 Stedman St. The deadline for early-bird registration is Sept. 30 and final deadline to register is Oct. 9. Our goal is to honor our fluent speakers and raise up our learners.
For those who do not subscribe to FaceBook Contact: Michelle Eakman, meakman@kictribe.org, 907.228.9576
Posted: Mon, 2 Sep. 2019
Expires: Sat, 7 Dec. 2019