The free Ketchikan Classifieds has been provided as a community service for over 19 years. Thank you for your continued responsible use of this free service.
By using this service, you are accepting full responsibility for selecting your buyers, collecting your debt and managing your ad.
REMEMBER: Choose your CATEGORY & assign a PASSWORD to edit.
REPORT ABUSE: 617-9696
• Comments & opinions are NOT allowed & abuse of service
• NOT FREE for commercial advertising or website promotion.
• Abusers of "fair use" of this free service will be blocked.
2 bedroom Apt for rent
2BR, 1BA, 840sf apartment, Carlanna Lakes Area, W/D, dishwasher, heat & HW included, 8x12 heated storage, off street parking, 12x11 deck, upper floor. $1135 per month plus $65 tax, $750 deposit, 907 617-7002


Posted: Mon, 16 Oct. 2017
Expires: Thu, 26 Oct. 2017
Community Connections\' Survey
Wnter Hours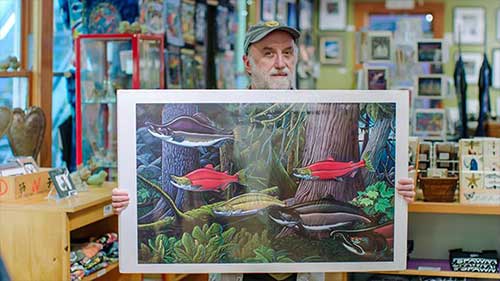 The Friday Night Insight programs start on January 6 with local artist Ray Troll's Prehistoric Alaska presentation.
The Southeast Alaska Discovery Center is announced its operating hours for the winter season.
From October 6 through December 15, the center will be open and free of charge on Fridays from 10 a.m. to 5 p.m. Visitors can enjoy the exhibits, purchase America the Beautiful passes or Tongass area maps, or choose to screen one of our films highlighting Alaskan natural and cultural history.
With prior arrangement from teachers, classes may visit Monday through Friday from 10 a.m. to 2:00 p.m.
From January 2018 to April 2018, our hours will be extended from 10:00 a.m. to 7:00 p.m. to accommodate the Friday Night Insight programs. On January 6, at 6:00 p.m. we will kick off the series with local artist Ray Troll's presentation: Prehistoric Alaska. The Friday Night Insight programs include presentations by community experts, scientists, and historians.
We hope to see you at the Discovery Center all winter long! The Southeast Alaska Discovery Center is located at 50 Main Street in Ketchikan.
Posted: Fri, 6 Oct. 2017
Expires: Tue, 5 Dec. 2017
Project
Have you experienced a Brain injury ? Traumatic or acquired.
Would you like to participate in a project nationwide? Make a mask that tells your story of what life is like for you, Masks will be displayed in Ketchikan then the State of Alaska , finally making a tour of the USA.
Unmasking Brain Injury is a project of Hinds' Feet Farm in partnership with the Brain Injury Association of NC
Join the movement!
Open to people who have had any type of traumatic or acquired brain injury AND their family/ loved ones. -mask and art supplies provided- Free and open to the public. Need to sign up by October 20th and date in November to make masks will be announced.
The mission
•To PROMOTE awareness of the prevalence of brain injury
•To GIVE survivors a voice and the means to educate others of what it's like to live with a brain injury
•To SHOW others that persons living with a disability due to their brain injury are like anyone else, deserving of dignity, respect, compassion…
stop in at 602 Dock st. #108 on 1st or 3rd Wednesday 5:00 -7:00 PM to sign up or email ktntbi@gmail.com
Posted: Fri, 29 Sep. 2017
Expires: Sun, 29 Oct. 2017

email
KIC'S WORKFORCE & TRAINING
KIC'S WORKFORCE & TRAINING ANA SEEDS GRANT
If you are:
A Resident of Ketchikan Gateway Borough
Alaskan Native or American Indian
Working Age (16-64)
Wanting to Increase Your Average Income
Looking for work or work experience
Looking for training to increase employability skills
Looking for on the Job Training
This program is open to all Alaskan and Native/American Indians. If you want to work or keep working in a certain industry and would like your income to be increased, this program is for you! Our project focuses on building collaborative training partnerships with Ketchikan major industry employers in order to increase jobs that provide a living wage. This programs goal is to reduce unemployment rates and increase average income for Alaska Native and American Indians of the Ketchikan Gateway Borough by partnering with local business and industries to facilitate targeted training opportunities based on industry needs.
For more information please stop by our office located at:
615 Stedman Street, 2nd Floor
Or Contact:
Lori Zagar, Career Coordinator
907-228-9325
Posted: Wed, 20 Sep. 2017
Expires: Fri, 20 Oct. 2017

edit
GED PREP HAS MOVED
UAS KETCHIKAN GED PREP HAS MOVED!
Beginning September 5, 2017, free GED prep is available at the UAS Ketchikan main campus, 2600 7th Avenue, Paul Building, Room 103. The GED is a stepping-stone toward a college education or a better career and a family-sustaining wage.
The reading review is available Monday and Wednesday, 12:00-4:00. The math review is available Tuesday and Thursday, 10:30-2:30. Students need to bring photo identification and social security card or number. Minors need parent/guardian permission. Tutoring can be scheduled by appointment. Funding assistance for testing is available.
For more information, contact the GED instructor, Barbara Morgan, at 228-4549 or bgmorgan@alaska.edu
Published as a Public Service Announcement by SitNews.
Posted: Tue, 29 Aug. 2017
Expires: Mon, 27 Nov. 2017
Advanced Care Planning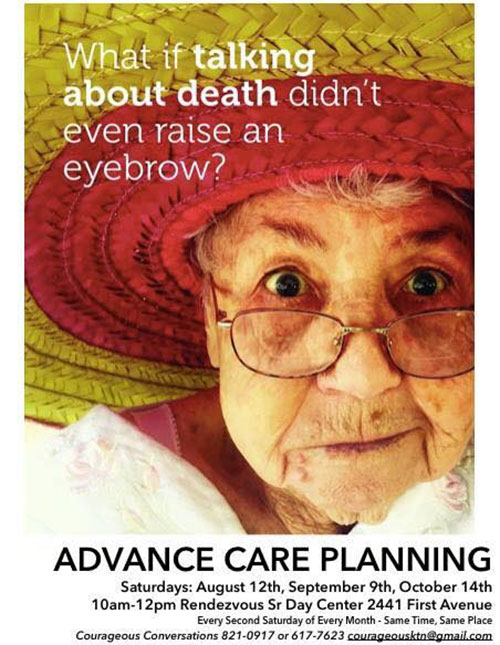 Posted: Thu, 10 Aug. 2017
Expires: Wed, 8 Nov. 2017

email