The free Ketchikan Classifieds has been provided as a community service for over 19 years. Thank you for your continued responsible use of this free service.
By using this service, you are accepting full responsibility for selecting your buyers, collecting your debt and managing your ad.
REMEMBER: Choose your CATEGORY & assign a PASSWORD to edit.
REPORT ABUSE: 617-9696
• Comments & opinions are NOT allowed & abuse of service
• NOT FREE for commercial advertising or website promotion.
• Abusers of "fair use" of this free service will be blocked.
Death Cafe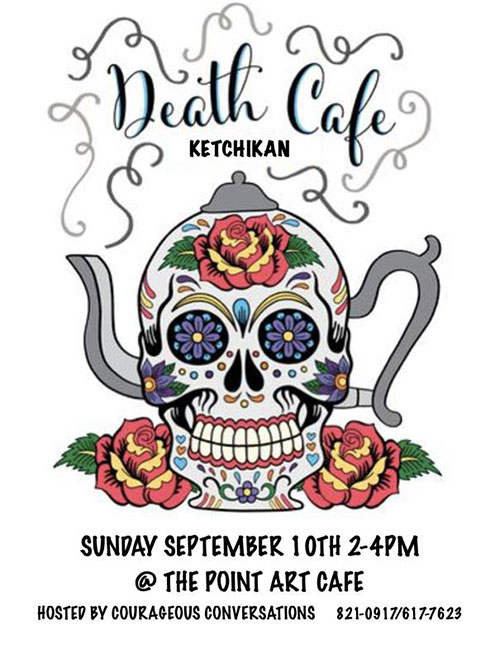 Posted: Thu, 10 Aug. 2017
Expires: Sat, 9 Sep. 2017
Advanced Care Planning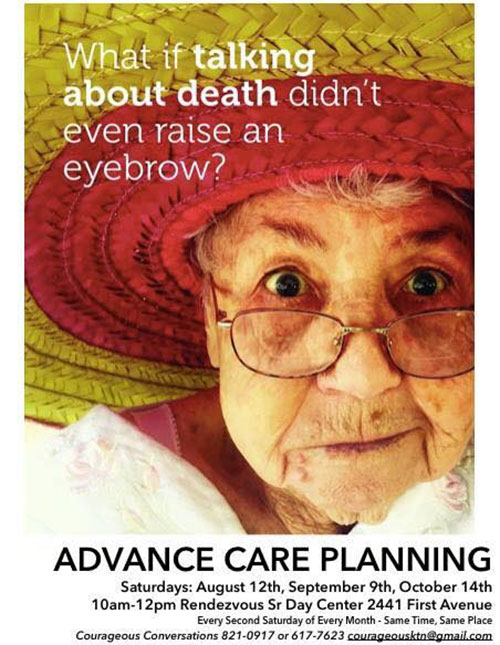 Posted: Thu, 10 Aug. 2017
Expires: Wed, 8 Nov. 2017

email
Attention
Correction to Federal Subsistence Hunting Regulations
An error has been noted in the 2016-2018 Federal Subsistence Management Regulations for the Harvest of Wildlife on Federal Public Lands in Alaska.
The error is located on page 25 regarding deer harvest regulations for Units 1A and 1B. The harvest of deer in these units has only been for antlered deer. As indicated in both 36 CFR §242.26(n)(1) and 50 CFR §100.26(n)(1), the regulation should read:
Unit 1A - Deer

4 antlered deer

Aug. 1–Dec. 31

Unit 1B - Deer

2 antlered deer

Aug. 1–Dec. 31
For additional information, please contact Jeff Reeves at 907-826-1649. Regulation books and maps of Federal lands within the units are available at US Forest Service offices.
Additional information on the Federal Subsistence Management Program can be found on the web at https://www.doi.gov/subsistence
Posted: Wed, 19 Jul. 2017
Expires: Tue, 17 Oct. 2017
Statewide Nominations OPEN
Statewide Nominations OPEN for 28th Annual YWCA Alaska/BP Women of Achievement & Youth Awards
YWCA Alaska is accepting nominations for the 28th Annual Women of Achievement & Youth Awards. The Women of Achievement Awards pays tribute to women who give of their time and energy to make our community a better place, both in their personal and professional lives. The Youth Awards honors Alaskan youth, ages 16-18 who have overcome major challenges in their lives and have made efforts towards fulfilling the mission of YWCA Alaska: eliminating racism and empowering women while promoting dignity, peace, freedom and justice for all.
This annual program, inspiring to both women and men, encourages women and girls to become leaders in their community and professional roles. A selection committee reviews all submitted applications and selects 10 women and 5 youth awardees, based on award criteria.
Women of Achievement Nomination Information:
Deadline: Friday, September 1, 2017 by 5:00 pm
Contact: Nomination forms can be found online at

http://ywcaak.org/woa

by phone at
907.644.9600 or by emailing

info@ywcaak.org

. Young People of
Achievement Application Information:
Deadline: Friday, September 29, 2017 by 5:00 pm
Contact: Applications can be found online at

http://ywcaak.org/woa

or by phone at
907.644.9600 or by emailing nfo@ywcaak.org.
Event Details
Wednesday, November 8, 2017 at the Alaska Center for the Performing Arts Discovery Theater. Doors open at 5:15 pm. Call 907.644.9600 for more information and/or sponsorships.

YWCA Alaska www.ywcaak.org and www.ywca.org
Posted: Sat, 1 Jul. 2017
Expires: Fri, 1 Sep. 2017
Marine Safety Instructor Training
The Alaska Marine Safety Education Association (AMSEA) is conducting a six-day Marine Safety Instructor Training (MSIT) at the Public Safety Training Academy in Sitka, Alaska, from September 19, 2016 to September 24, 2016. This is an intensive train-the-trainer course that prepares individuals to effectively teach cold-water survival procedures, use of marine safety equipment, and vessel safety drills.
Taught by experienced mariners, the MSIT provides practical, hands-on experience in survival equipment use and procedures. Topics covered during the course include preparation for emergencies, cold-water near drowning, hypothermia, cold-water survival, survival equipment, procedures & onboard drills, risk assessment, ergonomics, and methods of instruction. AMSEA recommends this workshop for anyone that wants to provide cold-water survival & survival, shore-side survival, or marine safety instruction, like the U.S.C.G.-required drill conductor certification for commercial fishermen.
Upon completion of the course, participants will be prepared to teach AMSEA's U.S. Coast Guard approved Fishing Vessel Drill Conductor training, pending authorization from the Coast Guard. Participants may elect to co-teach a Fishing Vessel Drill Conductor training in Sitka on September 25, 2017.
This workshop is free to commercial fishermen on approval, thanks to support from the U.S. Coast Guard and NIOSH. The cost for all others is $875 for AMSEA members and $995 for non-members. Interested mariners can register online at
www.asmsea.org
or call (907) 747-3287.
Posted: Mon, 5 Jun. 2017
Expires: Sun, 3 Sep. 2017
Music on the Docks
Music on the Docks starts this week!
Thursday and Friday, June through August
12:00 pm to 1:00 pm
Grab your lunch and take to the docks! City of Ketchikan's Music on the Dock celebrates local musical talent. Sunny days we'll be at berth 2 and rainy days we'll be under shelter at at berth 3, come out and support the musicians and enjoy the hustle bustle of the docks in the summer.
Print a schedule here [PDF} and plan your lunch hour around some great live music!
Posted: Thu, 1 Jun. 2017
Expires: Wed, 30 Aug. 2017