The free Ketchikan Classifieds has been provided as a community service for over 19 years. Thank you for your continued responsible use of this free service.
By using this service, you are accepting full responsibility for selecting your buyers, collecting your debt and managing your ad.
REMEMBER: Choose your CATEGORY & assign a PASSWORD to edit.
REPORT ABUSE: 617-9696
• Comments & opinions are NOT allowed & abuse of service
• NOT FREE for commercial advertising or website promotion.
• Abusers of "fair use" of this free service will be blocked.
Courageous Conversations
To jumpstart end-of-life conversations and planning, ask your loved one how they want it to be when they are taking their last breaths in this life. Ask yourself.
I asked my mom and she answered right away" "If possible, I want to be in my own home with you taking care of me." Then I asked, "What do you absolutely NOT want to have happen during your last moments?" Her immediate answer: "No CPR, no mechanical breathing and no artificial nutrition." I can remember 2-3 requests but not 10-12 and I will prepare to care for her in her home.
Keep it simple. Ask the questions and share the answers. Video recording is a great idea, save and share to loved ones far and wide. If the answers change, make a new video.
Courageous Conversations can help, we meet every month, on the second Saturday from 10am-12pm, at Rendezvous on the corner of First and Jefferson. May 12th is the day - join us and learn how to start the conversation.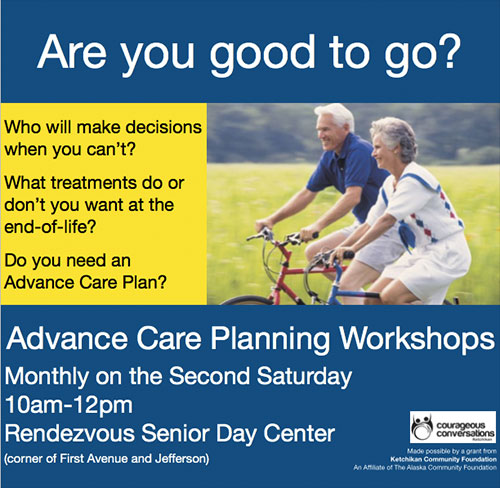 Posted: Fri, 11 May. 2018
Expires: Thu, 9 Aug. 2018
Devotionals
Join us for non-denominational prayers, meditations, and the study of various spiritual writings. Also, we will be dedicating some time for Honoring Our Ancestors. Includes music and videos. 2441 1st Ave,Ketchikan,Suite A Ph 907-617-3336
Posted: Fri, 4 May. 2018
Expires: Sat, 1 Sep. 2018
Women\'s Groups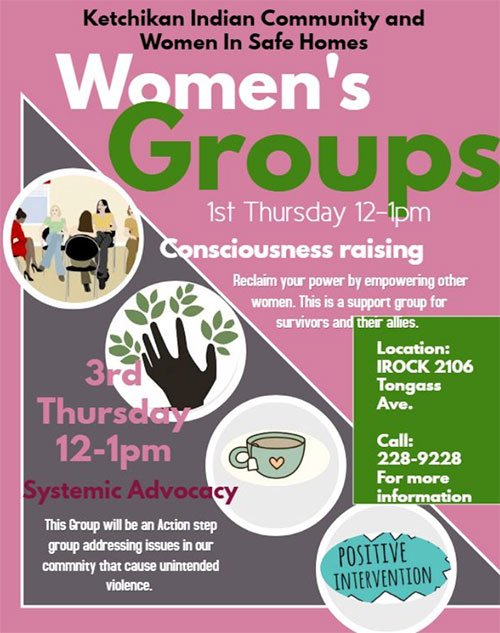 Posted: Thu, 3 May. 2018
Expires: Mon, 2 Jul. 2018