The free Ketchikan Classifieds has been provided as a community service for over 19 years. Thank you for your continued responsible use of this free service.
By using this service, you are accepting full responsibility for selecting your buyers, collecting your debt and managing your ad.
REMEMBER: Choose your CATEGORY & assign a PASSWORD to edit.
REPORT ABUSE: 617-9696
• Comments & opinions are NOT allowed & abuse of service
• NOT FREE for commercial advertising or website promotion.
• Abusers of "fair use" of this free service will be blocked.
How To Help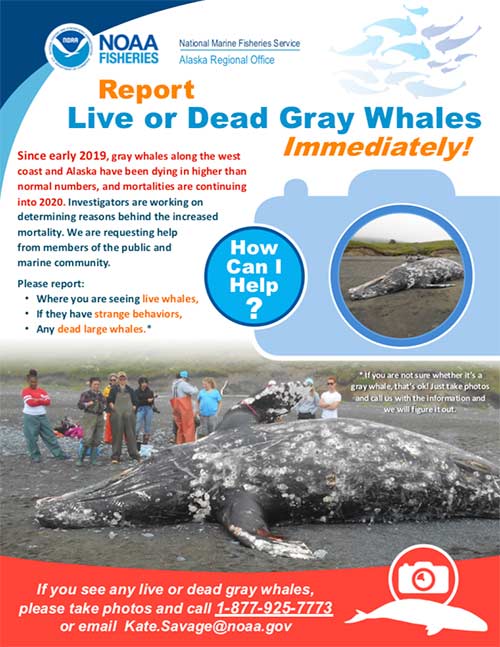 Posted: Sat, 28 Mar. 2020
Expires: Fri, 26 Jun. 2020

email
Cancelled
As per the Governor's most recent mandate, the Main Street Gallery will close its doors to visitors until April 1st.
The Arts Council has canceled our Saturday Morning ART classes, and we have postponed our Arts Uncorked and Stories at Latitude 56 events until a time when it is safe for groups to gather again.
On Wednesday, March 25th at 5:30pm the Ketchikan Area Arts and Humanities Council will hold our Annual Meeting on Facebook LIVE from the Arts Council's Facebook page! This meeting is usually brief but necessary to fulfill our bylaws and to allow the public to know everything about the workings of this nonprofit organization. We will have the 2019 Annual Report up on our website prior to the meeting.
Posted: Fri, 20 Mar. 2020
Expires: Sun, 19 Apr. 2020
Limited Entry
In order to do our part to keep our campus and community safe UAS Ketchikan has instituted a limited entry policy for all of our campus buildings effective March 19 for the Paul and Ziegler Buildings and March 21st for our Maritime Training Center. We encourage visitors to call 228-4511 with questions or concerns before coming to campus.
Posted: Fri, 20 Mar. 2020
Expires: Sun, 19 Apr. 2020
Annabelle's Curbside Pick Up
Annabelle's is offering Curbside Pick Up and New Restaurant Safeguards
We have all seen the news and requests for social distancing. We have also seen that employees across the country are facing loss of jobs and wages. At Annabelle's we are doing everything we can to keep as many of our staff members employed as possible. But we can't do it alone. We need the help of our community now like never before.
Starting yesterday all online, or call in orders, can be delivered or picked up at our curbside. We will have a sign outside indicating where you can pick up your order.
For those of you that prefer to dine in we are changing our seating. We are now leaving every other table empty to ensure that our guests maintain the suggestion safe zone of 6 feet.
Family meals, that serve 4-6 people, are a great option.
Cleanliness has always been important to us and we have increased our frequency of cleaning even more.
We have installed hand sanitizing stations in hotel and restaurant.
We have increased the frequency of wiping down all hard surfaced in our restaurant and hotel.
We have asked any employees that aren't feeling well to stay home.
Orders can be called in at 225-6009 or online, click here.
Posted: Tue, 17 Mar. 2020
Expires: Sat, 16 May. 2020
Attention Cranberry Rd.
Cranberry Rd. residents be aware apparently there is mail thief in our area. I had mail taken out of my mail box, opened, and disposed of on the ground in a secluded spot about a 100 feet away. Just wanted to let people know,and lets look out for each other.


Posted: Wed, 11 Mar. 2020
Expires: Fri, 10 Apr. 2020
Thank You All
To all, of the WONDERFUL people we have met over the years, selling Kokomo Crabs we want to say Thank you. We are retiring and lookin g forward to a new adventure. Thanks again.


Posted: Wed, 4 Mar. 2020
Expires: Fri, 3 Apr. 2020
FINALLY! A Real Investment Program
Mind Capital is a high-tech crypto-asset investment system led by Gonzalo García-Pelayo together with an international team of experts in investment and Blockchain technology.



High Daily Returns for Everyone!
100% Transparent! - Passive Earning!



Learn more about this amazing
life changing opportunity Here.


Posted: Sat, 29 Feb. 2020
Expires: Fri, 29 May. 2020
District 1 Eulachon closed
Ketchikan Misty Fjords District Ranger Susan A. Howle, under authority delegated by the Federal Subsistence Board, is closing the Federal public waters that flow into District 1 to the taking of Eulachon from 12:01 a.m. on March 1, 2020, until 11:59 p.m. on April 29, 2020, due to anticipated low Eulachon returns. Any Eulachon caught in this area must be immediately returned into the water unharmed. The Alaska Department of Fish and Game (ADF&G) will also be closing State managed subsistence and personal use fisheries for Eulachon in District 1.
Portions of District 1 have been closed since 2005 due to low Eulachon returns. Based on returns observed in recent years, it is anticipated that all Eulachon returning to District 1 in 2020 will be needed for spawning to rebuild area populations.
The Ketchikan Misty Fjords Ranger District, in cooperation with ADF&G, and Ketchikan Indian Community will continue to monitor returns to District 1 systems.
Posted: Sat, 29 Feb. 2020
Expires: Wed, 29 Apr. 2020
Child Find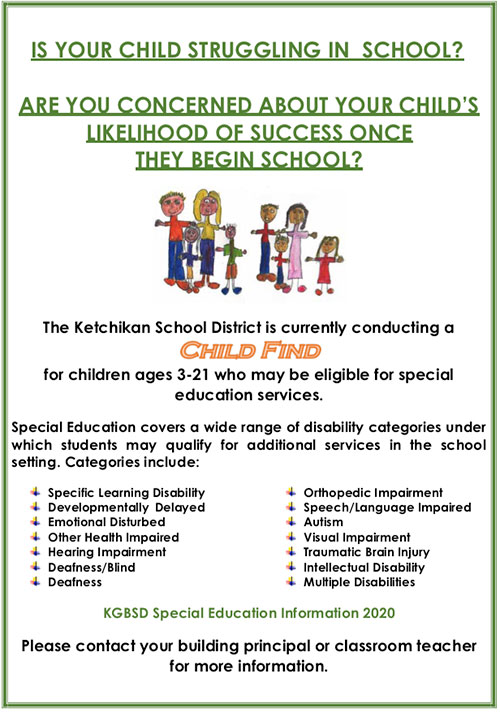 Posted: Mon, 24 Feb. 2020
Expires: Fri, 24 Apr. 2020